Vitamin C
Ascorbic acid (vitamin C) is a water-soluble vitamin which has strong antioxidative functions in the human body. This indispensable substance has generally activating effects on the metabolic processes and is essential for the formation of collagen, bones, teeth and the capillary endothelium.
Basic Facts
In expert circles, vitamin C is mainly known under its chemical name «ascorbic acid». Like all other vitamins, this substance cannot be synthesized by the human body itself and therefore has to be supplied with the daily food.
Vitamin C is almost completely absorbed from food (80 to 90 percent), while the ascorbic acid not required by the body is quickly eliminated through the kidneys.
This is the reason why no overdosage symptoms may occur, and there is also no long-term depot for vitamin C in the organism. A rich source for vitamin C are citrus fruit of all kind, but also broccoli, red pepper pods and currants. A high ascorbic acid content can furthermore be found in cauliflower and strawberries.
The latest research results suggest that so-called free radicals are formed in the body under various different conditions (overexertion, stress, etc.) which, if formed in excess, may cause damage to muscles and other tissues.
The ensuing result are inflammatory reactions which cause pain in the muscles but are symptom-free in other tissue (e. g. blood vessels). As ascorbic acid can trap such free radicals, this vitamin has unique protective functions within the metabolic processes.
Effects
Ascorbic acid is a water-soluble vitamin and its main function in the body is that of a strong antioxidant. In this sense, it is one of the most important functions of ascorbic acid to protect LDL cholesterol against oxidative damage. Because recent studies have shown that structural impairments of «low density lipoprotein» (LDL) seem to enhance the disadvantageous effects of cholesterol on the development of heart and vascular diseases. Therefore, vitamin C is one of the most important factors of antioxidative protection for LDL.
Moreover, vitamin C is a key substance in the body's own synthesis of the tissue-building substance collagen. This basic substance is important for the buildup of connective tissue, muscles, blood vessels, etc. Vitamin C is also an essential substance for the formation of bones and teeth. Ascorbic acid, due to its antihistaminergic effects, finally also supports wound healing, promotes blood formation and in this way supports the functionality of the body's own immune system.
It is especially important to take vitamin C in spring when, due to the season, the ascorbic acid content of the body drops. This vitamin is moreover metabolized to a great extent in case of colds. This is reflected in the fact that high doses of vitamin C (up to 8 grams), taken at the onset of a cold, may shorten the duration of the disease. However, ascorbic acid has hardly any effects on the prevention of colds.
Indications
Although the severe form of vitamin C deficiency (scurvy) is now a clinical rarity in Western industrialized countries, the daily food of many people does not contain enough vitamin C. This is the reason why chronic states of tiredness («fatigue»), a tendency to bruises as well as recurrent mucosal bleeding are considered early symptoms of a vitamin C deficiency.
Also smokers tend to develop low vitamin C levels. These persons in particular require a higher daily vitamin intake in order to be able to maintain an approximately normal vitamin C level in their bodies.
A daily intake of ascorbic acid in addition to the usual food also makes sense in case of increased physical exertion (sports) and mental strain. Furthermore, vitamin C may also be successfully used during convalescence after severe diseases, but also in non-specific symptoms such as «spring fatigue».
In all, vitamin C also increases the natural defenses of the body and therefore may contribute to recover more quickly from infectious diseases. Vitamin C has also proven to be quite successful in supporting the healing of wounds and bone fractures. Also in case of non-specific bleeding  – e. g. gingivitis, stomatitis – the intake of vitamin C may be indicated.
Composition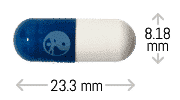 One capsule contains 1000 mg vitamin C in pharmaceutical grade. Other ingredients: magnesium stearate, stearic acid, DiTab, maltodextrin.
Dosage
Doctors and nutritional specialists mostly recommend the intake of 500 – 1000 mg ascorbic acid per day. In clinical investigations, doses of 1000 mg per day are used in the majority of cases.
However, dosages of up to 10,000 mg per day are not unusual. On the other hand, daily doses of 100 – 200 mg vitamin C per day are recommended to prevent cardiac infarction.
Side Effects
When ingesting more than 600 milligrams per day, ascorbic acid has slightly diuretic effects. High doses (more than 2 grams per day) may cause diarrhea, and daily dosages of more than 4 grams increase the risk of kidney stone formation.
During pregnancy and lactation, great restraint should be exercised in the additional intake of vitamin C.
Generally it is recommended that persons having one of the following conditions consult a doctor before considering to supplement their food with vitamin C:
glucose-6-phosphate dehydrogenase deficiency
iron overload of the body (hemo­siderosis, hemochromatosis)
kidney stones in the medical history
renal insufficiency
Instructions
It is generally recommended to consult a specialist before taking food supplements. This is especially true in cases of chronic disease and regular intake of medication. If you experience symptoms while taking the substance, you should consult a doctor and inform him or her of the intake. Store in a cool, dry place and keep out of reach of children.