Basic Facts
Free radicals are the «bad guys» among the potentially harmful environmental influences and are considered the main culprits for the negative manifestations of age. According to scientific findings, they are at least involved in the origin, and mainly also in the course, of very many age-related diseases such as, for instance, diabetes, rheumatism, atherosclerosis, Parkinson's disease, Alzheimer's disease, retinopathies, etc. They also play an important role in allergies and diseases of the skin.
Free radicals are molecules in a state of chemical imbalance, and therefore they are very reactive. They always try to form new compounds in order to attain a chemical balance.
Free radicals are, however, also necessary for the organism as, among other things, they are used  by the defense cells of the immune system to combat pathogens. If there are too many free radicals in the body, however, they trigger an oxidation process which also attacks and destroys healthy cells.
Under normal circumstances, our organism can keep the share of free radicals within limits and regulate them by the body's own enzymes. Many environmental influences such as cigarette smoke, radiation, false nutrition, etc. cause a surplus in free radicals, though. In such a case the body needs help in the form of an additional intake of antioxidants which counteract the harmful oxidation process. Such substances are enzymes, the vitamins C and E, betacarotene and particularly OPC.
Effects
Catechins – substances belonging to the polyphenol group – are synthetized by many plants, among others by grapes, cranberries, blueberries, maple, pine, red-flowered hawthorn and legumes. But also parsley and peanut shells contain catechins. Cate­chins tend to form chemical bonds among each other. If this has happened, they are called oligomeric procyanidins, or OPC, and this is also the name under which these substances are known.
Although OPC is found in very many plants, the natural ingestion of this substance through food is almost impossible as OPC is mainly found in the skins, husks, pods, shells or kernels / seeds of various fruit. Therefore, it has to be industrially extracted.
Investigations have shown that OPC not only has a similar effect as the vitamins C and E but that it probably is the true, natural substance that increases the effect of these vitamins.
OPC stands out from among the antioxidants because:
It is rapidly absorbed and combats free radicals everywhere in the body. Age-related symptoms of decline are therefore effectively prevented at many places in the body.
It neutralizes many different kinds of free radicals. Contrary to other antioxidants, it is effective both in aqueous and fatty environments.
It protects the connective tissue and the vessel membranes in the entire body. Collagen and elastin, the substances which are responsible for the firmness of tissue, are strengthened.
Indications
Vascular diseases: the application of OPC in vascular problems, primarily in case of venous insufficiency and / or varicose veins and atherosclerosis is the scientifically best documented indication. It could be proven that the resistance of the blood vessels had doubled 24 hours after taking OPC, already.
The new formation of varicose veins can be significantly slowed by OPC. There are also indications that the regular intake has a preventive effect so that varicose veins do not even get a chance to form. Very good successes were also achieved in the therapy of hemorrhoids.
Cholesterol metabolism: increased cholesterol levels are closely connected with cardiovascular diseases. Cholesterol deposits along the vessel walls cause atherosclerosis and the well-known consequences. OPC may help to reduce these deposits and thus lower the rate of cardiac infarction and stroke. Many studies could show that cholesterol deposits in the vessel wall can be suppressed by OPC. The cholesterol levels in blood are also reduced. All this leads to the vessels becoming elastic again and the organs being better supplied with blood.
Tissue swellings: patients who have undergone breast cancer operations frequently experience unpleasant swellings in the arm. These edemas, but also pain and disturbed sensation may be clearly reduced when OPC is taken regularly. OPC may also improve swellings after sport injuries. The reason is that the vessels become less permeable, which reduces the tendency to swell.
Eye diseases: in general, OPC has a favorable effect on eye diseases caused by a reduced blood supply. In this connection it does not matter whether the diminished vision is due to diabetic, atherosclerotic, inflammatory or degenerative processes.
Especially in the case of diabetic retinopathy, a disease leading to an increasing weakness of vision and to blindness due to microvascular damage, retinal bleeding and edemas, OPC helped to improve the vision of many patients. In people with night blindness similar successes could be achieved.
Allergies / skin diseases: more and more people in our part of the world suffer from allergies and skin problems. Many scientists believe that the increasing environmental pollution and free radicals are the main causes of these problems. OPC suppresses the effect of the so-called mast cells – immune cells responsible for most of the symptoms in allergic reactions. OPC is also very well suited for use in skin diseases having an allergic component such as neuro­dermitis and eczemas.
Acne develops during hormonal changes in the body and therefore mostly occurs in puberty. The sebaceous glands produce more sebum, get obstructed and inflamed. The anti-inflammatory and blood-flow stimulating effect of OPC accelerates the cleansing of the skin and makes it smooth again.
Antiaging / memory / stress / immune system: the amount of free radicals to which our body is exposed determines whether we will age faster or slower, fall ill sooner or later. Our memory function is also negatively influenced by free radicals, as is the immune system and our ability to react to stress.
All this also causes a more rapid aging pro­cess, and only if we help our body to cope with free radicals we will be able to influence this race to our benefit and at least get old «younger».
Composition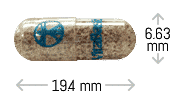 One capsule contains 60 mg OPC (oligomeric procyanidins) of the grape variety vitis vinifera in pharmaceutical grade. Other ingredients: rice flour, magnesium stearate, SiO2.
Dosage
In normal cases take 1 capsule 1 – 3 times a day at mealtimes with plenty of fluid.
Side Effects
Oligomeric procyanidins do not have any side effects. Since they are water-soluble substances, excess quantities are simply excreted via the kidneys and urine.
Instructions
In general, self-medication without consultation of a doctor is not recommended.
If possible, OPC should not be taken together with milk since milk inhibits absorption in the stomach.
By activating the body's own vitamin C depots, the ingestion of OPC may, on account of the «double» antioxidative effect, lead to an increased excretion of toxic substances (heavy metals, pesticides, …) in the first few days. This at first causes a feeling of indisposition, which, however, disappears after three to four days and is replaced by a marked rush of vitality. Store in a cool, dry place and keep out of reach of children.