Basic Facts
Fats can be divided into essential and non-essential fatty acids. The non-essential fatty acids need not be ingested with food as they can be produced by the body itself from essential fatty acids and other food components like carbohydrates.
Most of the fats we ingest are so-called saturated, non-essential fats. Among them are mostly animal fats. They make our food taste more delicious, are stable chemical compounds (saturated) and can be used for cooking and baking. Excess intake of these fats, however, is also responsible for many of the diseases of the Western civilization like atherosclerosis, cardiac disease and obesity.
Essential fatty acids are so-called unsaturated fatty acids. Unsaturated means that they have one or several double bonds between two carbon molecules – they are mono- or poly-unsaturated. They cannot be produced by the body itself and therefore they have to be ingested. Due to their chemical structure they are very instable. They have to be consumed fresh since they last for a very short period only once they are extracted. Essential fatty acids are needed by the body for many diverse, partly vital functions. The lack of these acids can cause a number of diseases like Alzheimer's disease, dementia, depression, cardiac diseases, diabetes, hyperlipidaemia, allergies, asthma and skin diseases.
Among the most important essential fatty acids are DHA – docosahexaen acid and EPA – eicosapentaen acid. Although their formula has been known for years, the knowledge of DHA and EPA was more or less limited to the fact that they are found in cold-water fish like salmon, sardines, tuna, mackerel and in algae together and that both belong to the omega 3 fatty acids.
Effects
There are two main groups of essential fatty acids: omega 3 fats, among them alpha-linolenic acid (ALA), and omega 6 fats. Linoleic acid belongs to the last group. Both are long-chain, poly-unsaturated fatty acids. In case of sufficient intake, the body is usually able to convert ALA from the omega 3 family at least partially into the longer-chain fatty acids eicosapentaen acid (EPA) and docosahexaen acid (DHA). This conversion is effected – very slowly – with the help of desaturase enzymes, the so-called «catalysts of our body», which are found in many tissues.
ALA, DHA and EPA have different metabolic effects. It is therefore very important that they are taken in sufficient quantities. Furthermore, omega 3 and omega 6 fats must be available in the right proportion. An excessive omega 6 intake may damage the health. Omega 3 fats, however, help to reduce these damaging effects. Omega 3 fats are found in cold-water fish and algae from northerly seas as they protect against the cold. Warm-water fish, however, produce more omega 6 fats. Most of the plant oils contain omega 6 fats but only very few omega 3 fats. Many experts are of the opinion that the higher the omega 3 fat intake the better for the organism. In most people the ratio of omega 6 to omega 3 fats is 20 to 1. However, an optimal distribution would be at least 6 to 1 or even 3 to 1.
Cultures using only little fish in their nutrition show markedly lower DHA levels in the brain than inhabitants of coastal areas. Moreover, in many people who eat «consciously» an almost fat-free diet, the proportion of saturated fatty acids decreases, but unfortunately also the intake of omega 3 fats.
Indications
Omega 3 should be taken in case of:
Hypertriglyceridaemia: the increase of the blood fats is an important risk factor for atherosclerosis, cardiovascular diseases and stroke. The treatment of increased blood fats is of particular importance if there are additional risk factors like diabetes or hypertension or in case of chronic alcoholism. The intake of omega 3 helps to reduce increased triglyceride levels. At the same time, the EPA and DHA content is increased.
People who limit their egg, meat and fish consumption such as for instance vegetarians, or persons who consume almost no fat, or persons having a fish allergy.
Crohn's disease / ulcerative colitis: these diseases are caused by chronic inflammation of the intestines and are accompanied by diarrhea, bleeding and intense pain in the belly. The quality of life of these people is in most cases rather restricted. Omega 3, due to its anti-inflammatory properties which are connected with its influence on the prostaglandin metabolism, has a very favorable influence on the course of the diseases and can clearly relieve their symptoms. These anti-inflammatory properties are also helpful for people having chronic polyarthritis.
Desaturase deficiency: many people have a congenital desaturase deficiency. An acquired deficiency occurs in case of stress, diabetes and obesity, excess consumption of sugar and unsaturated fatty acids as well as upon intake of anti-inflammatory drugs like aspirin or ibuprofen. In children younger than one year this enzyme is not active either.
People who drink great quantities of alcohol: alcohol damages the brain cells which largely consist of DHA. If no additional DHA is taken, the damaged cells cannot be replaced.
Raynaud's disease: this vascular disease which causes disturbed blood supply to the fingers and toes gets worse in cold weather and can be very painful. Due to its effect on the prostaglandin synthesis, omega 3 makes the blood «thinner», improves its flow properties and also prevents excessive vessel restriction, which worsens the blood supply.
People who show signs of a DHA deficiency: diminished visual acuity and defective vision, impairment of concentration and the learning faculty, inflammatory dermatological diseases like eczema and psoriasis, neurologic disorders like depression, Alzheimer's disease, dementia, schizophrenia.
Composition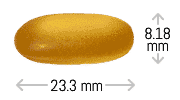 One softgel contains: 1000 mg fish oil concentrate (contains EPA 500 mg, DHA 250 mg) in pharmaceutical grade. Other Ingredients: glycerin, water and vitamin E as natural D-alpha tocopherol.
The omega 3 softgel contains gelatin, traces of anchovies and vitamin E (from soy). The fish oil is a product from Chile and Peru.
Dosage
In normal cases take 1 softgel in the morning and 1 softgel in the evening at mealtimes with plenty of fluid. If you experience deficiency symptoms increase dosage accordingly.
Side Effects
Since omega 3 has haemodiluting properties, nose bleeding may occur occasionally. In rare cases gastrointestinal symptoms like indigestion or heart burn may be experienced. In such cases omega 3 should be taken during the meals.
Instructions
Generally, a specialist should be consulted before intake. In the presence of diseases or when taking medications on a long-term basis, omega 3 should be used only after consulting a doctor. If you experience any symptoms while taking omega 3 you should consult a doctor and inform him / her of the intake.
DHA and EPA are very unstable chemical compounds and can also be damaged within the body. In order to prevent this you should avoid free radicals. These are, among others, caused by stress and get into our bodies by smoking cigarettes, by car exhaust fumes, ozone, alcohol and environmental toxins. Also avoid an excess intake of saturated fatty acids in products like meat, milk products and eggs. In order to protect omega 3, take antioxidants like alpha lipoic acid, vitamin C, gingko biloba and OPC. Store in a cool, dry place and keep out of reach of children.