Basic Facts
Methyl-sulfonyl-methane (MSM) is a natural, organically bound sulfur. In very low concentrations it is found in the body fluids and in the tissue of the human body. MSM has a very good bioavailability and is an essential part of the food. Sulfur is an important building block of enzymes and immuno­globulines; it is also important for the formation and the nutrient balance of connective tissue, hair and nails.
MSM has an anti-inflammatory effect and enables the body to replace destroyed cells and tissue structures. These properties of MSM are also pain-relieving and soothing in case of inflammatory processes in the joints, tendons, synovial bursae, problems with the intervertebral discs and numerous other processes in the muscle and locomotor system. In sports people, MSM helps against stiffness and pain due to overexerted muscles, ligaments and joints.
MSM is also considered an important anti-allergic agent. It occupies the receptors in the mucous membranes so that allergens can no longer attack.
In addition, MSM helps in numerous problems in the gastro-intestinal tract such as for instance diarrhea, constipation and acidifi­cation as well as against numerous parasites. MSM can be found in many foodstuffs like milk, meat and fish, but it is destroyed by heating, drying and in other processing methods of the modern foodstuff industry. For people who do not purposefully eat milk and untreated foodstuff, supplementing their food with MSM makes sense.
Effects
For centuries it has been known that sulfur-containing medicinal springs can ease many complaints. Sulfur compounds have been used for many years as antibiotics (sulfonamides) to combat bacterial infections.
The human body absorbs MSM through the intake of fresh vegetables, fruit, meat and sea animals. Fresh cow milk is particularly rich in MSM. Unfortunately, however, MSM can be very easily destroyed. And also modern farming causes the MSM content in plants to be constantly falling.
Robert Herschler, one of the leading MSM researchers, expresses it as follows: «MSM can be destroyed so easily that in order to guarantee an optimal intake via food, fish, meat and vegetables would have to be eaten raw and unwashed.»
Indications
Heartburn / constipation: MSM is balancing the pH-value (in contrast to most other medications) without any side effect. Also in case of constipation MSM is helpful by stimulating the bowel function. People who do not suffer from digestive problems can take MSM as a food supplement on a daily basis and in this way balance the pH-value of the entire body.
Allergies: MSM, when used in treating allergies of all kinds, proved to be very successful. Its efficacy was the same as that of the usual antihistamine preparations, however without side effects. The patients reported clear improvements and even the complete disappear­ance of the allergic symptoms. Many patients could clearly reduce the amount of anti-allergic agents by additionally taking MSM.
Arthrosis: arthroses are usually trea­ted by giving pain-relieving and anti-inflammatory drugs which, however, often have unpleasant side effects. In several studies MSM had the same effects as the drugs available on the market and, moreover, was very well tolerated.

Rheumatoid arthritis: 40 percent of all people older than 65 years suffer from rheumatoid arthritis. MSM stops swellings and inflammatory reactions, relieves pain and prevents a stiffening of the joints.
Breast and intestinal cancer: in the animal test it was shown that MSM can suppress the breaking out of breast and intestinal cancer. MSM did not have any toxic side effects. With regard to human medicine this means that the intake of MSM – particularly in connection with other therapies to prevent cancer – could prevent, or at least delay, the breaking out of all types of carcinomas.
Emphysemas / pulmonary diseases: studies showed that MSM can help in many types of pulmonary diseases. Bronchitis, shortness of breath and smoker's cough could often be completely cured with an MSM therapy in connection with specific exercises
and a diet.
Systemic lupus erythematosus – SLE: SLE is an auto-immune disease characterized by fever, fatigue, pain in the joints and unpleasant rashes. The heart, lungs, kidneys, the gastro-intestinal tract and brain can also be involved, sometimes even with a lethal course. In the animal study MSM lowered the death rate by 75 to 100 percent. The respective studies with humans are being carried out.
Muscular pain: in case of pain in muscles or diseases of the skeletal muscles, MSM was able to bring about significant improvement. When vitamin C was additionally given, the curative success began earlier and was also more effective. MSM is often used by athletes and in sports medicine. It helps in case of overstrained muscles, cramps, injuries and overexertion. The convalescence phase is shortened and injuries are cured in a shorter time.
Parasites: cutaneous fungi and athletic food can be successfully treated with MSM. But it is also effective in case of giardiasis (a disease caused by intestinal flagellates), trichinae and verminosis.
Skin, hair and nails: MSM increases the elasticity of the skin and the connective tissue. Successes were also achieved when MSM was used to treat acne, burns and age-related changes of the skin. Excessive scar tissue becomes softer and its optical appearance improves due to these effects of MSM.
Sklerodermia: sklerodermia is an auto-immune disease in which the skin and the connective tissue become abnormally hard and stiff. In its severe form, this disease can lead to immobility (e. g. of the fingers) or to a mask-like face. Tests have shown that MSM (in the form of a cream) made the tissue concerned softer and more elastic again, thus improving the quality of life of the patients.
Composition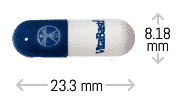 One capsule contains 500 mg methyl-sulfonyl-methane in pharmaceutical grade. Other ingredients: rice flour.
Dosage
As a food supplement, doctors recommend the daily intake of 500 mg.
For therapeutical purposes, the dosage depends on the respective state of health and the immune function. Also the body weight may play a role. Your doctor will prescribe the dose you have to take in accordance with your needs.
Side Effects
MSM is not toxic and is compatible with all other medications. No side effects have been observed to date.
Instructions
In order to achieve its optimal effect, MSM must be regularly taken on a daily basis for a longer period of time. It is recommended to take simultaneously vitamin C or a multivitamin preparation because the effects will then be produced earlier.
The first positive results should show within three weeks. If high doses of MSM are taken, the intake should be distributed over the day, preferably 4 times 500 mg /day.
In general, self-medication without consultation of a doctor is not recommended. Store in a cool, dry place and keep out of reach of children.