Basic Facts
Microcrystalline hydroxylapatite (MCHC®) is a particularly effective way of covering the body's daily requirement of calcium and other minerals. MCHC® is a food supplement that fulfils the daily calcium requirement of the body in an effective and safe way. As part of a health-conscious diet, MCHC® is an ideal means of preventing specific diseases of advanced age – in particular osteoporosis – by providing sufficient calcium.
A sufficient supply with calcium is important especially for the elderly – and this applies to both women and men. Apart from its role in the body for the normal functioning of muscles and blood coagulation, the mineral calcium is also an essential bone constituent. In old age, the bones of many people become more brittle, which is called osteoporosis in medical terms. The daily supply of sufficient calcium with food is important especially for people who already suffer from this disease, but also as part of proper health care.
Effects
MCHC® is quite an extraordinary substance. It not only contains the important calcium but all the minerals that are contained in normal and healthy bones. Moreover, MCHC® does not only simply contain these minerals, it contains them in the same ratio as is also found in natural bone tissue.
As already mentioned above, MCHC® contains in addition to calcium also mineral phosphates, magnesium, fluorides, zinc, copper, manganese, silicon and rubidium. In addition, MCHC® also consists of organic substances such as active enzymes, collagen fibers, amino acids and many other natural building elements of the bones.
Indications
Osteoporosis therapy: there exist a number of strategies to treat osteoporosis, which can be used with varying success (hormone replacement therapy, e. g. dehydroepiandrosterone, bisphosphonates, calcitonin, etc.). In this respect it is important to keep in mind that there is not only one therapeutic method for all osteoporosis patients.
To successfully fight osteoporosis, however, medicinal or hormonal substances alone are not sufficient. One of the most important factors is a conscious diet which is rich in calcium and certain minerals important for the bones. In this connection it is essential that the calcium contained in food can also be absorbed in sufficient quantities by the body. This is guaranteed if in addition microcrystalline hydroxylapatite (MCHC®) is taken on a daily basis.
It could be proven that MCHC®, when taken daily, contributes to a reconstruction of the bone structure and to the restoration of bone formation. In the medical literature there are numerous case reports and studies in this respect. This is the reason why renowned American doctors recommend to take MCHC® in case of an already existing osteoporosis or as a protection against this serious ailment.
Composition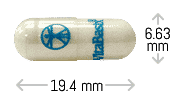 One capsule contains 250 mg MCHC (microcrystalline hydroxylapatite) in pharmaceutical grade. Other ingredients: rice flour, magnesium stearate.
Dosage
The exact dosage of MCHC® depends on how tall a person is and on the extent of the individual bone loss. If MCHC® is taken as a food supplement, a daily intake of 1 – 6 capsules at mealtimes is recommended. If required, the dose can be increased accordingly.
In case of painful bone fractures, American doctors even recommend the intake of up to 10 g MCHC® per day. This concept is summarized by the American chiropractor Dr. John Maher from San Diego, California, as follows: «If your bones are weak, then simply eat some bone. It contains all the nutrients you need!»
Nutrients for healthy bone tissue
Vitamin B12:
2 – 5 mcg / day
Vitamin B6:
5 – 25 mg / day
Vitamin C:
1000 – 2000 mg 2 – 4 times / day
Vitamin D:
5000 IU / day
Vitamin E:
600 IU / day
*Calcium (Ca):
1000 – 2000 mg / day
*Magnesium (Mg):
500 – 1000 mg / day
Trace elements:

*copper (Cu),

*phosphorus (P),

*silicon (Si),

*boron (B)
*Microcrystalline hydroxylapatite (MCHC®) contains all these minerals at a ratio that is favorable for absorption and metabolisation.
Side Effects
MCHC® has no known negative side effects.
Instructions
MCHC® is made from freeze-dried cattle bones free from chemicals, with the manufacturers using only bones from cattle reared naturally outdoors. Moreover, MCHC® products are subjected to strict testing to make sure that no damaging substances (such as pesticides) are contained in this food supplement.
In general, self-medication without consultation of a specialist before intake is not recommended. Store in a cool, dry place and keep out of reach of children.