Basic Facts
Acne is a skin disease characterized by reddened, inflammatory pustules which are mainly found on the face, neck and shoulders. It is typical of acne to first develop in the teenage stage and to continue into early adulthood.
The hormonal change occurring during puberty is considered one of the factors causing acne to develop, it being mainly the androgens (male sexual hormones) which stimulate the production of sebum and keratogenesis. Based on this, often bacterial infections of the sebaceous glands occur.
An iodine intake that is too high or a poisoning with chloroorganic chemicals may also lead to changes in the skin that are similar to acne. In practice, however, acne is very rarely attributable to either of these.
Sometimes a change of the nutrition proves to be helpful, but the kind of food that is not well-tolerated or makes the inflammation worse varies from person to person. Controlled studies showed how difficult and error-prone such search for causes is.
Akne-Plex® contains vitamins, trace elements and natural antiinflammatory and modulating substances. The effect of vitamins against acne and related inflammations is well documented in clinical studies. The other ingredients are traditionally used, for instance, in folk medicine or homeopathy to treat inflammatory skin diseases.
Effects
Several studies showed that zinc has a positive effect on acne. One study even found that under zinc effects were produced that were comparable to an antibiotic therapy.
High doses of vitamin A are successfully used to clinically treat severe forms of acne. Since, however, extremely high doses (several 100,000 units a day) are necessary to this end, which may have serious side effects, such a therapy can only be carried out under strict control by a doctor. The effect of a lower-dosed vitamin-A substitution is, however, also documented.
Positive effects were also found in a treatment with panthotenic acid, niacin and vitamin B6.
Proteolytic enzymes – as they are found in the plant preparation bromelain – have an antiinflammatory effect as they assist in the degradation of proteins, which play a role in the inflammatory process.
The roots of arctium lappa (big burdock) are used in the (asian) folk medicine for purification of the blood. The active ingredients isolated were inulin and mucins.
The extract of the thymus gland contains immunostimulating and modulating active ingredients.
Various trace elements whose (rather rare) deficiency may also entail skin problems round off the formulation.
Indications
To support the treatment of common acne and related inflammations of the sebaceous glands. Akne-Plex® also promotes, in general, the purification of the skin, improves the complexion and has a firming effect on the skin.
Composition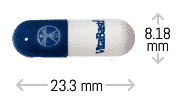 in pharmaceutical grade.
Other ingredients:  magnesium stearate.
Dosage
In normal cases take 2 capsules daily at breakfast with plenty of fluid.
Side Effects
Allergies against natural substances can never be fully excluded. For instance some cases of allergies against bromelain, a herbal enzyme complex, have been described. Interactions with medicines (such as disturbed absorption or protein bonding) have not been fully researched for individual ingredients yet. It is therefore absolutely necessary to consult the treating before taking this preparation together with medicines.
In case of an overdose, side effects may be experienced in the form of nausea, headache, fatigue and similar complaints. It is known that especially overdoses of vitamin A are toxic. The fetus is particularly sensitive to vitamin A and therefore pregnant women are advised not to use Akne-Plex®. Breast-feeding mothers should not take the preparation either.
Instructions
Generally, self-medication should be avoided and the preparation should only be taken after having consulted a specialist first. Persons who are under constant medical care should in any case consult a doctor before starting the treatment. Akne-Plex® should be applied together with strategies of a healthy life style (nutrition, regular sleep), soft cleansing of the skin and cosmetical products that are gentle to the skin. If the preparation is used to support a drug therapy for acne, this must in any case be discussed with the doctor. Store in a cool, dry place and keep out of reach of children.