Basic Facts
The feeling of sadness and depressive mood can lead people to the abyss of their lives. In psychiatry, depression is a severe disease which in many cases requires the permanent intake of medicines and psychotherapeutic treatment. If a clinically relevant depressive disease is not diagnosed and treated correctly and in time, it may sometimes be too late for those concerned.
Thanks to the progress made in science, modern medicine has now succeeded in shedding some light into the molecular darkness behind depressive diseases. Recent studies have shown, for instance, that there is a close connection in the human body between depression and certain biochemical messenger substances («neurotransmitters»). In particular, depression largely depends on the catecholamine level in the body.
Catecholamines are biologically extremely active substances which are responsible for numerous functions in the organism. Among the most important catecholamines are adrenalin and noradrenalin. These are substances having a specific task in regulating the cardiovascular function and the blood supply of the organs. Moreover, there are also other catecholamines such as dopamine – a precursor substance of noradrenalin and adrenalin.
Apart from their functions for the heart, circulation, and blood pressure, noradrenalin and dopamine also play an important role in the transmission of impulses between neurons. This is the reason why these catecholamines are also called «neurotransmitters».
Most of all a finely tuned balance between the catecholamines in the brain is extremely important. In case of disturbances in the metabolism of these neurotransmitters, severe diseases may be the consequence. In this respect, depression is only one disturbance which can be traced back to a neurotransmitter imbalance. Because also in case of the frequent Parkinson's disease one can find a disturbed balance of the neurotransmitter dopamine.
Normally, catecholamines are formed in the body by molecules that are ingested with the daily food. For many people, however, the usual food as a source for catecholamine-building substances is not sufficient. These people are different from others in that there are small biochemical differences in their metabolisms.
Actually, these people are quasi «biochemical time bombs» because their neurotransmitter balance can be upset at any time. These biochemical differences seem to be responsible for the fact that such people develop a depressive disease in the course of their lives.
The solution of the problem of insufficient intake of neurotransmitter-building substances with the daily food is the additional intake of specifically developed supplements. The most important parent substance of the catecholamines is the amino acid phenylalanine.
Effects
When producing L-phenylalanine synthetically in the laboratory, one usually gets a mix, one half of which consists of the levorotatory and the other half of the dextrorotatory form of the amino acid.
The mix of D- and L-phenylalanine is called DLPA® and is successfully used to treat depression nowadays.
L-phenylalanine mainly serves as a building substance for the most important neurotransmitters in the brain, where a well-balanced ratio of catecholamines can prevent the occurrence of depression.
D-phenylalanine, on the other hand, also has many favorable effects. The dextrorotatory form of the amino acids has proven to be effective in the treatment of Parkinson's disease. In addition, D-phenylalanine was also to some extent successfully used in the therapy of chronic painful diseases (e. g. rheumatism and arthroses). Finally, D-phenylalanine can also counteract the emergence of depressive symptoms due to its conversion to phenylethylamine.
Indications
As already mentioned above, the amino acid phenylalanine is usually ingested with the daily food. The important L-phenylalanine is found in most of the foodstuff having a high protein content. However, an actual phenylalanine deficiency is only very rarely observed in civilized countries, for instance if the respective person eats a diet with an extremely low protein content for a longer period of time.
On the other hand, however, the daily food intake often does not provide a sufficient and optimal phenylalanine supply so that people with a predisposition for such a disorder may develop a neurotransmitter imbalance in the brain after some time. These people may then develop a depressive disease in the course of their lives.
False and one-sided nutrition, fast food, protein deficiency, etc. are frequent problems of our civilization. Many diseases may be attributed to the daily food we eat. Yet such deficiency symptoms often cannot immediately be identified as such. For this reason, a supplementation of the daily food with DL-phenylalanine (DLPA®) can benefit many people. A supplementation with DLPA® has proven to be safe and efficacious in the following diseases:
depressive diseases
Parkinson's disease
alcohol withdrawal
rheumatic arthritis
arthroses and certain skin diseases (vitiligo)
Composition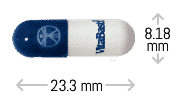 One capsule contains 500 mg DL-phenyl­alanine in pharmaceutical grade. Other ingredients: rice flour, magnesium stearate.
Dosage
In view of an optimal dosage of DLPA®, usually 75 – 1500 mg per day are prescribed, depending on the disease. Since the mix of active ingredients called DLPA® has very strong effects on the nervous system, mood and emotional state, DLPA® should be used exclusively as prescribed and supervised by a doctor.
In normal cases take 1 – 3 capsules a day with plenty of fluid.
Side Effects
In general, DLPA® is excellently tolerated. When ingesting great quantities of individual amino acids, damage to nerve tissue was observed in individual cases in the past. Regarding DLPA®, a maximal dose up to which the substance is harmless is presently not known. At the recommended dosage of up to 1500 mg per day not a single case of nerve damage has been reported.
In rare cases nausea, heartburn and a transient headache may occur. In case of extreme overdoses there might be the risk of nerve damage. If antidepressants are taken at the same time, it is urgently advised to consult a doctor beforehand.
Instructions
When ingesting DLPA®, this substance and other amino acids may mutually influence their resorption. For this reason, DLPA® should not be taken together with other foodstuff that contains proteins. Moreover, persons who take medicines or over-the-counter preparations should consult their doctor before using DLPA®. In general, self-medication is not recommended.
Pregnant or lactating women or persons who are under constant medical care or take antidepressants should consult a doctor before use. Do not take DLPA® under any circumstances in combination with alcohol. Store in a cool, dry place and keep out of reach of children.