Basic Facts
Kava kava extracts of the leaves of Piper methysticum have been used for thousands of years by the peoples of Polynesia to calm the nerves, for sleeping but also for combating tiredness. It is furthermore used to treat urinary tract infections, rheumatic complaints, asthma and to relieve pain. When used topically, the leaf can also be used as a therapy against headache.
Kava kava is still little known here. However, the plant has been scientifically analyzed for more than 120 years and in the meantime has become one of the most researched and tested plants in phytotherapy as a whole. (It is interesting, however, that the much better known valerian is one of the least researched plants.)
The extracts of kava kava seem to be able to cure one of the greatest health problems of our Western world: states of anxiety and depressive moods. It is said that kava kava may also improve performance capacity and even increase the sexual desire. Kava kava becomes more and more the plant of the new millennium and a true alternative to conventional anxiolytics (drugs relieving anxiety) and psychopharmaceuticals.
For at least 3,000 years, kava kava has played an important cultural role as the «national drink» of the Polynesians and Melanesians. The chiefs and nobles prepared the drink for important religious and political ceremonies and almost every tribe had its own rituals for using kava kava.
Effects
Kava kava is native to the islands of the South Pacific and was first described by Johann Georg Forster who accompanied James Cook during his second journey round the world. Forster, a biologist, gave the plant its Latin name Piper methysticum (intoxicating pepper) in 1777. He had studied the ceremonies of the natives and described the plant as an intoxicant. However, this effect has never been proven as yet.
Piper methysticum preferably grows at a height of 300 meters above sea level and can be found in the entire South Pacific region; about 72 different species are known. A mature kava plant looks like a haphazard collection of lignified stalks which are somehow held together shortly above ground. The various species may have different effects, depending on their chemical components. Kava kava is the name both for the plant and the beverage which is produced from the roots of the bush.
Of the many chemical substances which could up to now be isolated from the kava plant, the pyrones seem to be responsible for the anxiety-relieving (anxiolytic) and muscle-relaxing effects for which the plant is mainly known and used. These active ingredients are only contained in the fat-soluble part of the kava root. For research and medical uses, the root is treated with organic solvents in order to be able to extract the active ingredients. This process yields an extract which is standardized to 70 % kavalactones (or kavapyrones).
Composition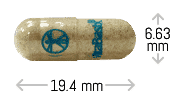 One capsule contains 50 mg kava kava in pharmaceutical grade. Other ingredients: rice flour, magnesium stearate.
Dosage
In normal cases take 1 capsule 1 – 3 times a day after mealtimes with plenty of fluid.
The recommended daily dosage should not be exceeded.
Instructions
Food Supplements must not be used as a substitute for a balanced and varied diet and a healthy lifestyle. Pregnant or lactating women or persons who are under constant medical care should consult a doctor before use. In general, self-medication without consultation of a doctor is not recommended.
Store in a cool and dry place out of the reach of children.