Basic Facts
Kava kava extracts of the leaves of Piper methysticum have been used for thousands of years by the peoples of Polynesia to calm the nerves, for sleeping but also for combating tiredness. It is furthermore used to treat urinary tract infections, rheumatic complaints, asthma and to relieve pain. When used topically, the leaf can also be used as a therapy against headache.
Kava kava is still little known here. However, the plant has been scientifically analyzed for more than 120 years and in the meantime has become one of the most researched and tested plants in phytotherapy as a whole. (It is interesting, however, that the much better known valerian is one of the least researched plants.)
The extracts of kava kava seem to be able to cure one of the greatest health problems of our Western world: states of anxiety and depressive moods. It is said that kava kava may also improve performance capacity and even increase the sexual desire. Kava kava becomes more and more the plant of the new millennium and a true alternative to conventional anxiolytics (drugs relieving anxiety) and psychopharmaceuticals.
For at least 3,000 years, kava kava has played an important cultural role as the «national drink» of the Polynesians and Melanesians. The chiefs and nobles prepared the drink for important religious and political ceremonies and almost every tribe had its own rituals for using kava kava.
Effects
Kava kava is native to the islands of the South Pacific and was first described by Johann Georg Forster who accompanied James Cook during his second journey round the world. Forster, a biologist, gave the plant its Latin name Piper methysticum (intoxicating pepper) in 1777. He had studied the ceremonies of the natives and described the plant as an intoxicant. However, this effect has never been proven as yet.
Piper methysticum preferably grows at a height of 300 meters above sea level and can be found in the entire South Pacific region; about 72 different species are known. A mature kava plant looks like a haphazard collection of lignified stalks which are somehow held together shortly above ground. The various species may have different effects, depending on their chemical components. Kava kava is the name both for the plant and the beverage which is produced from the roots of the bush.
Of the many chemical substances which could up to now be isolated from the kava plant, the pyrones seem to be responsible for the anxiety-relieving (anxiolytic) and muscle-relaxing effects for which the plant is mainly known and used. These active ingredients are only contained in the fat-soluble part of the kava root. For research and medical uses, the root is treated with organic solvents in order to be able to extract the active ingredients. This process yields an extract which is standardized to 70 % kavalactones (or kavapyrones).
Indications
Anxiety states: In modern medicine, the treatment of states of anxiety with kava kava is as yet the best researched and documented one. According to double-blind studies, kavapyrones seem to stimulate the GABA receptors in the central nervous system, which is important for the anxiolytic and relaxing effect. Also the benzodiazepines, such as valium, which are among the most widely used anxiolytics, act on these receptors. Moreover, kavapyrones probably also inhibit the MAO-B enzymes, which also has a positive, mood brightening effect. Controlled studies with kava kava showed both in short-term and long-term trials (24 weeks) a clear reduction in anxiety feelings.
It is a great disadvantage of psychopharmaceuticals that in many cases they may negatively affect the ability to think, concentrate and drive a car. In addition, they may impair the memory function. Kava kava, however, even seems to positively influence the so-called cognitive abilities, as has been shown in clinical studies.
Pain: Kavaine, one of the most important pyrones of kava kava, seems to slow down the electrical cell activity in the nervous system, which has a muscle-relaxing effect and may positively affect the tendency to convulsions and have a positive effect on pain.
The Polynesian medicine men also frequently used the kava root to treat pain. A study involving animal experiments showed that kava kava contains not only substances that quickly relieve pain but also substances that have a long-lasting pain-relieving effect.
Immune system: Kavaine also has anti-inflammatory properties. Here, the scientific data were mostly obtained regarding the inhibited release of inflammatory agents in cardiovascular diseases and after strokes.
Stress: It was observed in several clinical studies that the administration of kava kava brought about a «more relaxed state» in the test persons, a general feeling of wellbeing, greater sociability and at the same time an increased perceptivity and improved the memory. It is also on account of this property that kava kava has been used in the South Pacific for hundreds of years.
Composition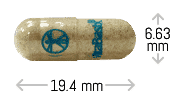 One capsule contains 50 mg kava kava in pharmaceutical grade. Other ingredients: rice flour, magnesium stearate.
Dosage
In normal cases take 1 capsule 1 – 3 times a day after mealtimes with plenty of fluid.
Side Effects
To treat states of anxiety, kava kava should only be taken after having consulted the treating doctor first as it may also have undesired effects due to its high efficacy. An overdosage may, for instance, lead to muscle cramps and disturbed consciousness.
Caution is also to be exercised if the preparation is simultaneously taken with alcohol and with all other substances which act on the nervous system: Animal tests have shown that the effect can be enhanced and this may lead to an overdosage.
Kava kava must neither be taken by patients who are treated for Parkinson's disease nor by persons who regularly take benzodiazepines. Not suited for pregnant and lactating women.
Instructions
If taken in excess amounts (more than 310 grams per week), a Kava dermopathy may occur. This is a scaly rash that remits once the use of kava kava is discontinued. If taken over a very long period of time, yellowing of the skin and the nails may sometimes occur, which quickly disappears once the use of kava kava is discontinued. Store in a cool, dry place and keep out of reach of children.