Basic Facts
If there is a deficiency in folic acid, cells are no longer capable of dividing and multiplying properly, which may have severe consequences in particular for quickly growing tissue (bone marrow, gastrointestinal tract, etc.) and also for fetal growth. A folic acid deficiency during pregnancy is also regarded as being linked with certain malformations of the child (e. g. neural tube defects, spina bifida).
Although folic acid is contained in a large number of foods, it is the vitamin of which the greatest deficiency exists worldwide. This is mainly due to one-sided nutrition: Most animal products (except for liver) contain only little folic acid while plant-based food rich in folic acid is often not eaten in sufficient quantities.
In addition, alcohol and a number of medicines such as estrogens, barbiturates, sulpha salicin, etc. inhibit the folic acid metabolism, moreover, folic acid is not very heat resistant or photostable.
It is estimated nowadays that a daily dose of 400 micrograms of folic acid alone could reduce the incidence of cardiac infarction in the industrialized countries by about ten percent. Due to the complicated interactions between the various vitamins, however, it makes more sense to supplement not only folic acid. The vitamins B12 and B6 should also be ingested in sufficient quantities.
Effects
A deficiency in folic acid mainly affects quickly growing tissue. It therefore has particularly critical consequences in pregnancy. In this connection, certain malformations of the child could be associated with this maternal vitamin deficiency. A deficiency in folic acid can, in particular, increase the incidence of neural tube defects and spina bifida (cleft spine) and therefore attention should be paid to a sufficient intake of folic acid in early pregnancy.
In medicine, the amino acid homologue homocysteine has been given great attention in the past few years. The homocysteine metabolism is in this respect closely connected with folic acid and vitamin B12. If these vitamins are deficient, the homocysteine level in blood increases as the amino acid can no longer be transformed back to methionine. Recent studies have shown that there is a significant connection between increased homocysteine levels and a deficiency in folic acid and vitamin B12. It was even possible to lower the homocysteine values in persons with a normal homocysteine level when they were administered folic acid and vitamin B12.
Increased homocysteine levels in blood have proven to be independent risk factors for cardiovascular diseases. According to numerous recent investigations, an increase in homocysteine also increases the risk of cardiac infarction, stroke and peripheral vascular diseases. Moreover, increased homocysteine levels are found in 20 to 40 percent of the patients suffering from coronary heart disease.
Apart from its importance as a cardiovascular risk factor homocysteine also seems to have a central role in the development of the postmenopausal osteoporosis. The most recent studies have shown that increased homocysteine levels impair cross-linking of the collagen fibers in bones which then causes damage to the bone matrix. In future, the administration of folic acid to prevent osteoporosis could therefore become more important.
Indications
Pregnancy / lactation: folic acid supplementation may lower the risk of malformations of the child. Moreover, the milk flow when breastfeeding is stimulated and milk production increased.
Depression / age: the correction of folic acid deficiency in patients showing psychiatric symptoms has rendered amazing results. In particular with elderly people having bad cerebral function and reduced folic acid values, the administration of folic acid could significantly increase their psychological performance and relieve their mental complaints. In this connection folic acid proved to be an antidepressant that increases the serotonin level in the brain. In this context, recent studies have shown that a highly-dosed folic acid therapy (15 to 50 milligrams per day) is a safe and efficacious option against depression which has a similar efficacy as a drug therapy.
Skin: the human skin is also a tissue whose cells divide very quickly. Therefore, a well-balanced folic acid level is of special importance for keeping the skin firm and maintaining its healthy appearance.
Cancer: a folic acid deficiency may have other consequences as well. Here, it is in particular dysplastic changes of the mucous membrane of the cervix («cervical dysplasia») that should be mentioned. Since estrogens inhibit folic acid, pregnant women and women taking oral contraceptives could experience abnormal changes in the mucous membrane of the cervix. This is important since cervical dysplasia is a precursor of cervical cancer.
Cardiovascular diseases: as already mentioned, it is important to substitute folic acid to prevent cardiac infarctions and vascular diseases.
Food supplement / physical balance: folic acid acts positively on all quickly dividing tissues and supports their regeneration. In particular this also applies to the gastrointestinal tract. A healthy digestive system is less prone to be populated by intestinal parasites such as fungi and certain bacteria, which in turn enhances the physiologic balance of the body. One feels better and is fitter.
Anemia: both a deficiency in folic acid and vitamin B12 lead to macrocytic anemia, and this kind of anemia goes hand in hand with an enlargement of the red blood cells. In this kind of anemia folic acid has to be supplemented.
Composition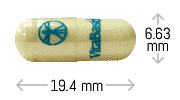 One capsule contains 800 mcg folic acid (vitamin B11) in pharmaceutical grade. Other ingredients: rice flour, ­magnesium stearate.
Dosage
In normal cases take 1 capsule daily with plenty of fluid as a food supplement and to prevent a deficiency. To prevent atherosclerosis and osteoporosis it is mostly recommended to take 800 mcg of folic acid per day. To treat cervical dysplasia and depression, it is generally recommended to take 10 mg of folic acid per day.
Side Effects
As a rule, the intake of folic acid causes no problems and no side effects. However, when taking folic acid, a deficiency in vitamin B12 may not be detected or its chemical proof in the laboratory may be made more difficult. If a deficiency in vitamin B12 is overlooked, however, this may cause severe damage to the nerves. Luckily, a deficiency in vitamin B12 is rare and is found only in case of a certain stomach disease. Yet it is not recommended to take more than 1000 mcg of folic acid a day without having consulted a doctor first.
Instructions
Absorption of folic acid in the intestine is impaired by some medications (digestive enzymes and antacids). If these substances are taken, a higher folic acid intake is recommended.
There is an interaction between folic acid and methotrexate, which is used to treat cancer. While in cancer therapy the inhibiting effect of methotrexate on the new formation of cells by its antagonism to folic acid is desired, it may possibly cause severe side effects if autoimmune diseases are treated with methotrexate, and then a supportive administration of high doses of folic acid may be required. However, this should only be done under the supervision of a doctor.
Generally, however, a specialist should be consulted before intake. In the presence of diseases or when taking medications on a long-term basis, folic acid should in any case be used only after having consulted a doctor first. Should you experience any complaints while taking folic acid you should consult a doctor and inform him / her of the intake. Store in a cool, dry place and keep out of reach of children.