Basic Facts
Alpha lipoic acid-ALA®, often called the «ideal antioxidant», can replace other antioxidants such as vitamins C or E. If not enough of these substances are ingested with the food, supplements containing alpha lipoic acid can at least partly cover this deficit. ALA® also plays an important role in blood sugar control. According to the opinion of scientists, insulin resistance and diabetes mellitus can, among other things, also be triggered by increasing oxidative stress and the production of free radicals. Here, antioxidants, and in particular ALA®, can intervene in a protective function.
Many severe late sequelae of diabetes such as nerve damage, pain, blindness, cardiac diseases and faster aging can be markedly reduced or stopped by ALA®.
Recent studies have also shown that ALA® can increase muscle strength and the energy household. It protects the extracellular LDL cholesterol and the intracellular DNA and, therefore, can possibly also inhibit the formation and growth of cancer cells and slow the aging processes. It also improves the memory according to first studies.
Effects
Alpha lipoic acid is a vitamin-like antioxidant and is frequently called a «universal antioxidant» as it is both water- and fat–soluble. In man ALA® is produced in the liver and other tissues where it acts as a natural co-factor of multi-enzyme dehydrogenase complexes such as for instance the pyruvate hydrogenase. ALA® plays an important role in mitochondria-specific ways to obtain energy from glucose.
With increasing age, however, the body produces less ALA® and the individual is dependent on eating a diet containing ALA®. Unfortunately, this substance is contained in red meat only, and therefore many people have to supplement it.
Indications
Diabetes mellitus: ALA® has an effect on biochemical processes in which blood sugar reacts spontaneously with proteins like collagen and destroys them. Collagen is contained in the skin, the blood vessels, the connective tissue and myelin (surrounds the nerve cells) as well as in other tissues. In the course of the years these processes lead to a premature aging of tissue, to kidney damage, atherosclerosis and loss of vision – the late complications of diabetes mellitus.
ALA® slows this protein-sugar bond by enhancing the uptake of blood sugar in the cells, a task which is usually performed by insulin. When insulin is missing, ALA® can take over this function to a certain extent, as is also the case when the vitamins C and E decrease.
Therefore, ALA® can prevent the dangerous rising of the blood sugar levels by uptake in the cells.
Aging: Aging is an inevitable biologic event which is associated with a progressing decrease of the function of the mitochondria. The mitochondrial membrane potential, the oxygen consumption and the fluidity of the cell wall decrease while the production of oxidants increases. The increased formation of oxidants, however, causes irreversible damage to the mitochondrial DNA as well as to proteins and lipids. The formation of oxidants is not restricted to aging itself, it is also involved in many pathologic processes such as diabetes, cardiovascular diseases, neuro-degenerative diseases, cancer and dysfunction of the immune system.
ALA® proved to be an excellent substance against increased oxidative stress, as was shown in several studies. Alpha lipoic acid can partly reverse the reduced mitochondria function and the increased oxidative stress associated with aging. To reach the maximum therapeutic benefit, however, sufficient plasma levels are required.
Central and peripheral nervous system: ALA® offers protection against the cerebral-ischaemic reperfusion syndrome after strokes, toxic amino-acid damage, mitochondria dysfunction, diabetic neuropathy and other damage to the brain and nervous tissues. Reactive oxygen-free radicals are in all probability involved in several acute and chronic pathologic processes in the brain and in nervous tissue. ALA® can offer an important protection against these dama­ging free radicals as it is easily absorbed via the gastro-intestinal tract and crosses the blood-brain barrier. As soon as it is in the brain, it can be absorbed by brain cells and tissue and there exercise its protective function on an intra- and extra-cellular basis. This makes ALA® an ideal substance to treat oxidative brain and nerve damage caused by free radicals.
Cardiovascular diseases: As is generally known, LDL cholesterol is one of the primary injurious factors in cardiovascular diseases. The function of this blood fat is to transport fatty acids, cholesterol and triglycerides. If LDL is destroyed by oxidation or free radicals, the fats are deposited along the inner walls of the arteries where they slow the blood flow and lead to heart attacks and stroke.
Antioxidants such as vitamin E protect the LDL against oxidation and free radicals. But if LDL is destroyed, also vitamin E is destroyed. Here, ALA® can intervene – it helps to restore vitamin E for its fight against the oxidants and, moreover, can also protect LDL itself as an antioxidant.
Poisoning: ALA® has significantly increased the survival rate of persons who had eaten poisonous mushrooms. Disintoxication treatment, however, must in any case be provided by experienced physicians and must not be done by way of self-medication.
Glaucoma: Preliminary data have shown that the intake of ALA® could markedly improve the visual power of patients suffering from glaucoma.
Composition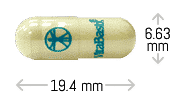 One capsule contains 50 mg, 100 mg or 200 mg alpha lipoic acid in pharmaceutical grade.
Other ingredients: rice flour, SiO2, magnesium stearate.
Dosage
In normal cases take 1 capsule 2 – 3 times a day during meals with plenty of fluid.
Side Effects
Side effects are observed only in very rare cases and are generally of a light nature. Most frequently experienced is an itching of the skin. If the product is taken in an uncontrolled way by diabetics, hypoglycaemias may occur.
Instructions
Pregnant or lactating women or persons who are under constant medical care should consult a doctor before use. In general, self-medication without consultation of a doctor is not recommended.
People who suffer from a vitamin B1 deficiency (e. g. chronic alcohol addicts) should take vitamin B1 together with alpha lipoic acid. Store in a cool, dry place and keep out of reach of children.